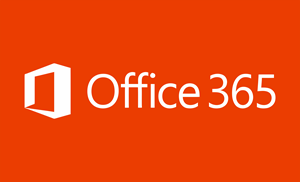 Benefits of Microsoft 365
Professional email for your organization. Email your customers and vendors with your own professional business domain name (your-company-name.com).
Collaborate with your employees with Outlook e-mail and MS Teams for chat and files sharing. Store files on 1 TB MS OneDrive and share large files with ease to external people. Create portal on SharePoint Online to share content with employees and customers, provide easy access to needed content quickly. Access your e-mail, Teams, and SharePoint online from mobile devices. Video chat on MS Teams with multiple people, share your screen for presentations. Your emails are synchronized across all your devices.
Why Microsoft 365?
Microsoft 365 allows you and your employees to work from anywhere. Microsoft 365 is cloud based meaning you can have access to your e-mail and files from anywhere as long as you have internet connectivity.
What is included in Microsoft 365?
Microsoft Word
Microsoft Excel
Microsoft PowerPoint
Microsoft Outlook
Microsoft OneDrive – 1TB of online storage per user
Microsoft SharePoint Online
Microsoft Exchange Online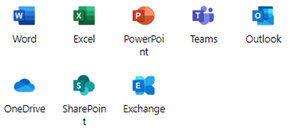 What is the advantage of Microsoft 365?
Your employees can install applications (Word, Excel, Outlook, PowerPoint) on up to 5 devices and access files easily when stored in OneDrive. When installed on laptops and desktops it will update to the latest version of Microsoft Office programs.
How do I know what Microsoft 365 plan to choose?
Microsoft 365 offers many different plans but choosing the right one can get a bit confusing for many folks. Plan includes online versions of Outlook, Word, Excel, OneDrive which can be accessed from web browser but if you are looking for Word, Excel, Outlook applications installed on your computer then there is a different plan for that. We help our clients pick the right plan after reviewing their requirements.
What about security?
With both online and local installed application versions, you'll get the best level of security and encryption. Your files and data cannot be accessed without proper user credentials with permission. With multi factor authentication it will require you to approve or send verification code after you provide your password. Making it more secure in case your password is ever compromised.
For your email protection you can set up rules and location targeting so users outside specific region cannot access data. It adds an extra level of security in case your password gets compromised from a vulnerable device.
What about my data backup?
Microsoft 365 offers its own checks for data, but it's a good idea to have extra layer of protection by using M365 backup. 3rd party backup solutions will be required to implement this extra layer of protection.
I don't know how to setup Microsoft 365. Do you provide setup and management of Microsoft 365?
Of course, we have extensive knowledge of Microsoft 365 and its products to get your organization fully running on it. We can also migrate your existing e-mail solution to Microsoft 365 for better collaboration need. Ongoing support is included.
Get in touch with us to schedule a meeting.